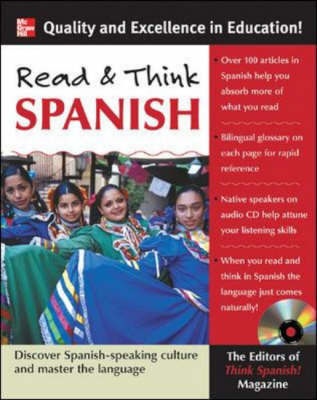 Read and Think Spanish
Автор(ы): Second Language Publishing
Издательство: Second Language Publishing
Год выпуска: 2006
Страниц: 206
Формат: PDF + MP3
Язык: Английский
Рейтинг по голосованию:

Проголосовавших:
13
Раздел:
Учебники и самоучители
Описание:
Read & Think Spanish, the innovative, non-intimidating approach to learning Spanish, is now available with an audio CD. Compiled by the expert editors of Think Spanish! magazine, this audio package brings together more than 100 engaging, fully illustrated readings and articles about the life and cultures of Spanish-speaking countries. The 70-minute audio CD features many of the articles read aloud by native speakers, as well as questions for review and reinforcement of new vocabulary.

Build a rich Spanish vocabulary without the burden of boring repetition or tedious memorization with Read & Think Spanish, CD Edition. In this audio package, you will find more than 100 intriguing articles written in Spanish about the enchanting diversity of Latino culture--from Spain's rowdy La Tomatina festival and Argentina's passionate tango tradition to Celia Cruz, Cuba's beloved salsa singer.

Each article presents new vocabulary in boldface within the article; in the margins, you will find the translations. You'll know right away any words unfamiliar to you. On the CD, native speakers read aloud many of the articles contained in the book, so not only can you see how words are used on paper but how they sound in conversation. With Read & Think Spanish, CD Edition, you will:

* Grasp Spanish vocabulary quickly and easily with the help of English translations

* Review and reinforce your newly acquired knowledge with end-of-chapter questions as well as exercises on the audio CD

* Learn about the vibrant Latino culture and its famous places, noted people, intoxicating music, mouth-watering food, and more

Take the ho-hum out of learning Spanish and discover an innovative language tool that will keep you entertained along your way to Spanish proficiency!