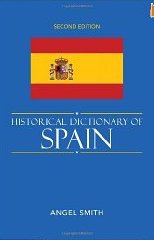 Historical Dictionary of Spain
Год выпуска: 2009
Рейтинг по голосованию:

Проголосовавших:
1
Описание:
Author: Angel Smith
Published: The Scarecrow Press, 2009
pages: 785
Format: pdf

For years Spain was under a dictatorship until democracy was recovered in 1978 under the form of a constitutional monarchy. In 1986 it joined the European Union and has experienced an economic and cultural renaissance. Today, Spain has the seventh largest economy in the world.

The second edition of the Historical Dictionary of Spain is an unrivalled reference guide to Spanish history and politics from the Middle Ages to the present. With its chronology, introductory essay, and over seven hundred dictionary entries on major Spanish organizations, including political parties, trade unions, and state bodies; the various regions and languages which comprise Spain, including Catalonia and the Basque Country; and major figures in Spanish culture and the arts, the Historical Dictionary of Spain allows readers to easily follow the major changes Spain has undergone.