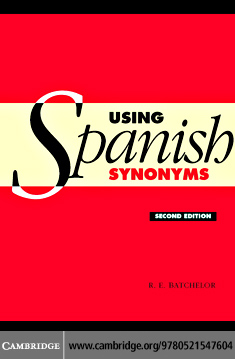 R. E. Batchelor - Using Spanish Synonyms
Автор(ы): R. E. Batchelor
Издательство: Cambridge university
Год выпуска: 2006
Страниц: 752
Формат: PDF
Язык: Английский
Рейтинг по голосованию:

Проголосовавших:
4
Раздел:
Учебники и самоучители
Описание:
Written for those with a basic competence in Spanish, this comprehensive synonyms guide is designed to help the learner find the right word for the right context - thus improving their vocabulary and enabling them to communicate more precisely and fluently. It contains around 900 lists of synonyms, each one classified according to its level of formality. Every synonym is illustrated with authentic examples, and the subtle shades of difference between them are clearly explained. The book contains four clear indexes: Spanish-Spanish, Argentinean-Spanish, Mexican-Spanish and English-Spanish, enabling the reader to instantly locate any word. This second edition has been thoroughly revised and updated, and includes new material on Argentinean and Mexican varieties, including a useful comparison of Mexican and Iberian Spanish. It will continue to be an essential reference for college and undergraduate students, their teachers, and other language professionals seeking a clear, user-friendly guide to Spanish synonyms and their usage.